When you're working with sterling silver (92.5% silver) or fine silver (99.9% silver), including silver precious metal clay (pmc), you'll need to burnish your silver in order to finish your piece.
Whenever you heat your piece, it will turn colors. If heated in a kiln, it will turn white. After soldering, you'll need to pickle your piece, and it will turn white.
At this point, if you don't want a white piece, you want either a bright shining silver or a silver that is able to accept a patina process, you need to burnish your piece.
Burnishing will turn you piece from white to a shinier silver. Not a high polish, mind you, but it's a step in that direction.
One way to burnish your silver is to brush it thoroughly with a brass brush. I have used the stick brass brushes, but I've found them to be hard on my hands, especially using it on several piece back to back. Which is actually the method I used getting ready for my first big show in Indianapolis in 2009, when I created over 300 pieces within a few weeks. Tore my hands to shreds! Very painful. I vowed to find another way after that.
After that I discovered using a rotary tool is much easier (at that time I used a cheap dremel from Walmart). Since I have obtained a flex shaft rotary tool (with a foot pedal for control). And I use these bits with brass bristles to burnish my pieces.
I still have to be careful with my fingertips, but it's much better than using the stick brass brushes, and gets into the fine detailed recesses much better.
Have you used these before? Or do you burnish another way?
Many will toss their white pieces in a tumbler with some steel shot, which can work, but I find it takes a long time, and doesn't get into the recesses of my pieces as well.
What's your experience?
Hope you're having a beautiful day!
Blessings,
Laura
Below is a quick video of me opening my most recent purchase of these bits, so you know I really order what I am recommending to you! I'm not just blowing smoke at you, this is really how I create and the stuff I use.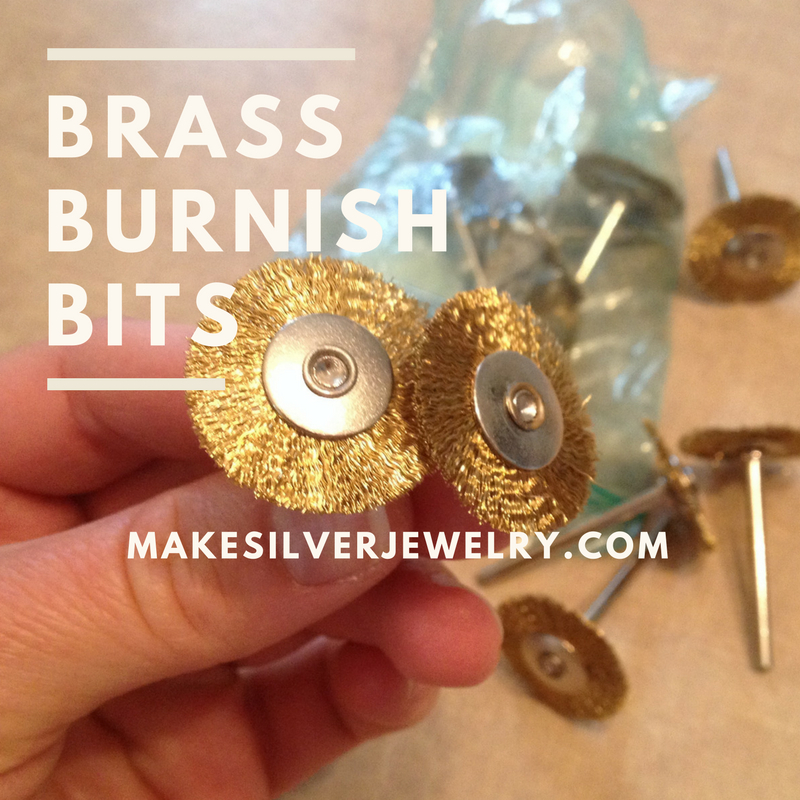 *This page does contain affiliate links through the Amazon Associates program. If you would like to help keep MSJ running, please consider purchasing through these links, if (and only if) it best suits your needs as a growing jeweler and your pocketbook. That said, I always recommend shopping around to find the best deals. I know I always do ;)