We all have them. Heroes, movers, shakers in our field of study (or love) that inspire us. Inspire us to create. To do. To become them! I have mine, I know you have yours. People, artists, geniuses that we look up to, like every post on their facebook page, instagram, follow all their Pinterest boards, stalk their Etsy shop for their latest work, and imagine what awesome dinner conversation with them would be like. All to discover that glimpse into their reality, their most creative brain, to see what makes them so … awesome – just hoping some of that inherent genius rubs off on us and makes us just as … well, awesome.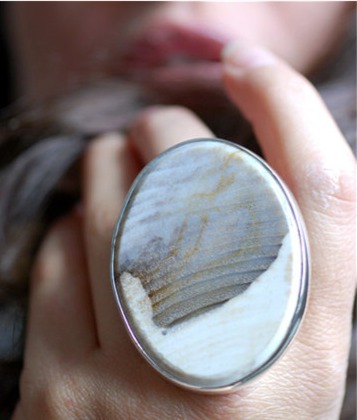 Thing #1: Find 1 specific thing that you love that they do. Study it. Really study what it is and why you love it so much. Is it one beading technique? Their soldering lines are non-existent? The polish on their finished pieces is perfectly shiny? Their color palette is reminiscent of what you imagine Heaven will look like? (OK that last one may go a little too far… but you know you know what I mean!) Pinpoint exactly one thing (even though, if you're like me, there's 100 things about their work you're in love with). One thing that you can soak yourself in and do everything in your power to duplicate. The color palette, the sheen, the shape of bead, the (lack of) solder line. And then practice practice PRACTICE. Until either you have it down or you're sick of it. And if you stop because you're sick of it, it was the wrong thing to pick. Choose another and go again.
Because the moment that you realize that you just duplicated what you love, you will be inspired (and quite impressed with yourself) with your newly "found" talent. And I give "found" air quotes because it's not something that you find. It's something that you work for. YOU worked for it. And YOU did it! That moment will feel wonderful. And you'll be inspired to find something else that you really want to accomplish and the whole crazy psycho "stalking" phase will begin again.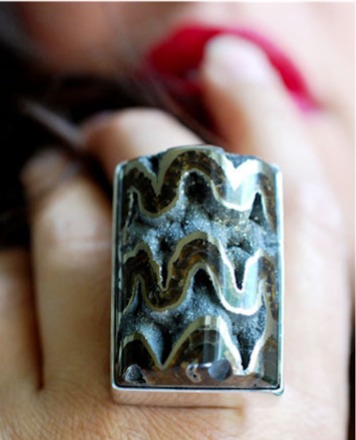 And just to write it out so it's completely obvious – no – we don't copy other's work… (with my mommy face on and my finger wag in full force) No no no. We learn from, study, and get inspired by their work. Make it your own. Rock it your way.
The funny thing is… even though you're learning from another artist and trying your darndest to recreate what you love of theirs… you become your own artist. In the end, you will be the artist that others are killing themselves to re-create.
And while we're speaking of those we look up to and admire, I'll share with you an artist whose work I love – and honestly would have a blast meeting for a dinner out one day and picking her brain…
She was featured this week on Etsy's blog. Katie Johansson of Dollybird. Talk about an amazing eye for color and flare with simplicity! I love her pieces and have picked a few uniquenesses of her work that I'm going to focus on duplicating – in my own voice of course ;)
Whose work do you follow? I'd love to hear – whether it's another metalsmith, painter, photographer… share! Maybe some of us will discover someone new to stalk too ;) Show them some love and leave links to their work so we can gawk!
Love always,